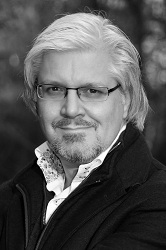 Jeroen Terstegge, CIPP
Internationally acclaimed privacy expert and thought-leader on global privacy issues. Focus on creating stakeholder trust, global data privacy compliance, privacy-compliant design of business processes and information infrastructures, analysis of regulatory issues, and fair information practices. Specialized in
privacy impact of new technologies, privacy of employees and consumers, privacy impact assessments,
and crossborder privacy issues (such as Binding Corporate Rules).

Frequently invited speaker at (international) conferences and seminars, and author of several books and
articles on privacy in English and Dutch.

► Current positions
► Chairman of the Privacy Committee of the Dutch Industry and Employers Confederation (VNO-NCW).
► Board Member Dutch Privacy Law Association.
► Editor-in-Chief Tijdschrift Privacy & Compliance.

► Past positions
► Corporate Privacy Officer and Senior Counsel at Philips International B.V. (Eindhoven, The Netherlands).
► Member of the Privacy Taskforce of the International Chamber of Commerce (ICC).
► Participant Privacy Roundtable of the Organisation for Economic Co-Operation and Development (OECD).
► Member of the Privacy and Security Working Group of DigitalEurope.
► Chairman of the Expert Group on New Technologies and Privacy of ECP-EPN.
► Member of the Public Policy Steering Committee Europe of EPCglobal.
► Policy Advisor at the Dutch Data Protection Authority.

► Awards
► Winner of the IAPP Privacy Innovation Award 2006 (category: Large companies).

► Degrees / Certificates
► Master of Law and Business (Groningen University).
► Master of Laws (Groningen University).
► Certified Information Privacy Professional CIPP (IAPP).

► Memberships
► IAPP - International Association of Privacy Professionals.
► VPR - Dutch Association for Privacy Law.
► NVvIR - Association for Information Technology and Law.
► NGFG - Dutch Society of Privacy Officers.
.►PViB - Dutch Platform for Information Security.
.